Tools that extend the hand of man

Fontax® brand is a private company initially specialized in the manufacture of tweezers, manufactured this very fine tooling which has always been part of the watchmaker's basic set. Issue of the collaboration of Pierre Baur and Jean- Maurice Junker, the company was founded in Saint-Imier (Switzerland). In the early 1960s, Fontax® set up the administrative base in Prilly near Lausanne and the production center in Gruyère from the mid-1970s. Building on the tradition of precision mechanics for over 40 years, Fontax® was the first and only company to develop the hard alloy tip tweezers manufacturing concept: the Taxal®. With its invention and the exploitation of the "cutting edge" in Taxal®, Fontax® still holds the unique specificity of its 100% Swiss made instruments. The Fontax® trademark is registered.
Taxal®
Taxal® an elaborate cobalt-chromium-titanium alloy. With this 100% stainless steel alloy, the Taxal® tooling is resistant to all corrosive agents and acids, guaranteed to be 100% anti-magnetic (magnetic field insensitive), with the characteristic of remaining flexible, indeformable and unbreakable. These properties are resistant to high temperatures (550°C and above). They do not soak at welding and can be used up to 15 times longer than ordinary steels. The Taxal® trademark is registered.
 Fontax® in Bulle until 2010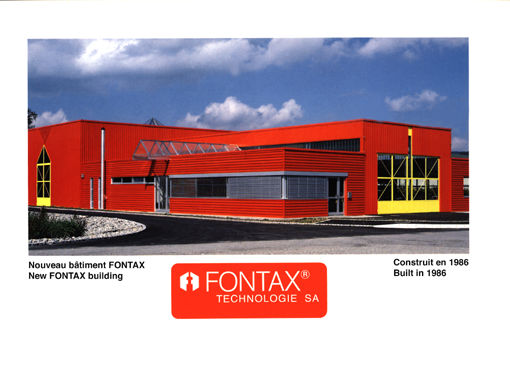 When it was developed in Bulle, Fontax® was expanding at a time when automation and robotics were already jeopardizing human production know-how. Watchmaking was a starting point and, following the watchmaking crisis of the 1970s, tweezers had to find other applications, particularly in the then emerging technologies such as electronics, jewellery, micro-technology, surgery and micro-surgery. These products require manual attention and quality know-how that cannot yet be automated.
Under the initiative of Pierre Baur and his workshop manager, Fontax® has always sought to develop instruments that were not as simple to implement. Thus, we are far from the mist of yesteryear! The Fontax® tweezers have been chrome-plated, Teflon-coated, titanium, CVD-treated or otherwise, with microscopic claws, but still based on the tip reported in Taxal® which has earned the reputation of its products. Fontax® has the capacity to produce nearly 800 different references according to customer requests!
The company sells its instruments worldwide. This is what forced it to structure itself to ensure the widest possible distribution. Japan is the main customer of Fontax® products, followed by the USA and finally Europe and Switzerland. Fontax® Technologie SA's reputation for quality, precision and safety is recognized.
Fontax® today (from 2010)

Following the death of its director Pierre† Baur, the manufacture of the Fontax® tweezers unfortunately had to stop.
But a large stock is still available.
For those familiar with our Fontax® brand and its registered Taxal® model, as well as those of the watch supply that Pierre Baur manufactured, We remain at your disposal for any request or question and we will be happy to answer them to the extent of our available stocks.